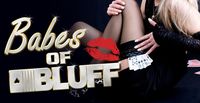 BLUFF Magazine South Africa has announced the launch of its national Babes of BLUFF model search. BLUFF is looking for 12 'babes' to be the magazine's official ambassadors in 2010.
Not only will readers have the hottest girls representing the largest poker publication in the world, but they will receive a free collector's calendar with their first 2010 issue of BLUFF, showcasing the Babes of BLUFF and diarising all important poker events throughout the year. Each issue of BLUFF next year will include pictures and interviews with the gorgeous girls.
The gorgeous Babes of BLUFF selected will feature on the cover of the January/February 2010 issue and receive a host of promotional opportunities.
Potential Babes of BLUFF candidates can email info@bluffmagazine.co.za with Babes of BLUFF in the subject line or visit www.bluffmagazine.co.za for more information.
For additional information please contact:
Rob Dickens – Group Media Manager, BLUFF Magazine
011 794 8745 / rob@bluffmagazine.co.za
Distributed on behalf of Bluff Magazine by:
Tracy Hyams
TDH Communications
083 414 8656 / tracyhyams@mweb.co.za